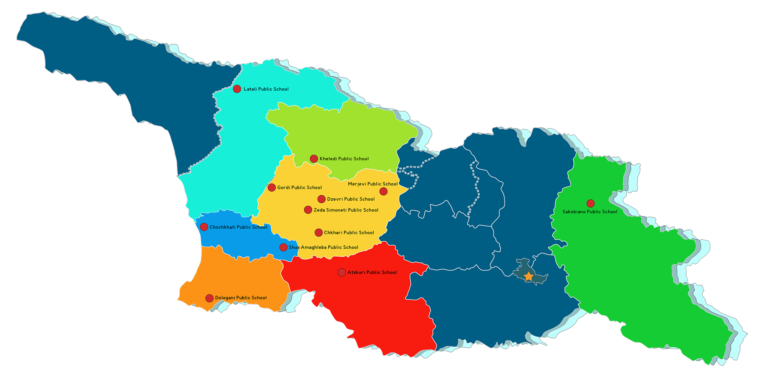 We believe that the development of Georgia begins with education, whether through university, a trade school, or an apprenticeship. This is not always the reality. In many parts of rural Georgia, students and families lack the financial resources to pursue higher education.
Through our scholarship program, students receive up to GEL 2,500 (the current cost of attending a public university) each year for four years to finance the costs of additional education. Students, in turn, must maintain a high grade point average and create and deliver two presentations a year to their home communities. These presentations express the value of what they are receiving. To date, MAC's scholarship program has allowed more than 86 students to continue their education beyond high school.
This would not be possible without the valuable support of private donors. These businesses and individual contributors, on their own, support one or more scholars, increasing the number of students that can be helped. Through their ongoing support, we hope that each child in Georgia will one day have the opportunity for higher education.
SCHOLARS SUPPORTED BY INDIVIDUAL DONORS
| Name | From | Uni | Major | Year | Supported By |
| --- | --- | --- | --- | --- | --- |
| Ana Korti | Chkhari Public School | Tbilisi State University | Psychology | Sophomore | Ms. Salome Shelia |
| Davit Sivsivadze | Chochkhati Public School | Tbilisi State University | Computer Science | Freshman | Pasha Bank Georgia |
| Archil Tskipurishvili | Chkhari Public School | Tbilisi State University | Social Sciences | Freshman | Aversi |
OUR SCHOLARS ARE FROM ACROSS GEORGIA
| Dzevri | | | |
| --- | --- | --- | --- |
| Nano Makaridze | Tbilisi State Medical University | Pharmacy | Senior |
| Ana Kochiashvili | Tbilisi State University | Business Administration | Senior |
| Lasha Panchulidze | Tbilisi State University | Computer Sciences | Senior |
| Tamar Berdzuli | Ilia State University | Sciences and Art | Senior |
| Nino Sofromadze | Akaki Tsereteli State University | English Philology | Senior |
| Anuka Tchanturidze | Caucasus University | International Relations | Junior |
| Giga Panchulidze | Tbilisi State University | Social Sciences | Junior |
| Nodari Meskhi | Tbilisi State University | Natural Sciences | Junior |
| Nini Panchulidze | Tbilisi State Medical University | Pharmacy | Junior |
| Mari Sopromadze | Akaki Tsereteli State University | Social Sciences | Junior |
| Natia Meparidze | Akaki Tsereteli State University | Social Sciences | Junior |
| Tamari Chkhartishvili | Ilia State University | Sciences and Art | Sophomore |
| Mariam Sakhelashvili | Akaki Tsereteli State University | Philosophy | Sophomore |
| Nino Kalatozi | Tbilisi State Medical University | Medicine | Sophomore |
| Giorgi Meparidze | Tbilisi State University | History of Art | Freshman |
| Saba Kobakhidze | Akaki Tsereteli State University | Tourism | Freshman |
| Julieta Kurashvili | Akaki Tsereteli State University | Fashion Design | Freshman |
| Mariami Panchulidze | Tbilisi State University | International Relations | Freshman |
| Irakli Meparidze | Georgian Technical University | Business Administration | Freshman |
| Lasha Machitidze | Georgian Technical University | Business Administration | Freshman |
| Elene Bitarishvili | Akaki Tsereteli State University | Business Administration | Freshman |
| Natia Gamezardashvili | Akaki Tsereteli State University | International Relations | Freshman |
| Luka Sopromadze | Tbilisi State University | Tourism | Freshman |
| Tamar Iamanidze | Tbilisi State Medical University | | Master's Degree |
| Dologani | | | |
| --- | --- | --- | --- |
| Julieta Djintcharadze | Batumi Shota Rustaveli State University | Exact Science and Education | Sophomore |
| Nodar Lortkipanidze | Batumi State Maritime Academy | Navigation | FreshmanMathematics |
| Chochkhati | | | |
| --- | --- | --- | --- |
| Irakli Marshanishvili | Kutaisi International University | Mathematics | Sophomore |
| Nikoloz Marshanishvili | Caucasus University | Computer Sciences | Freshman |
| Dimitri Modebadze | Tbilisi State University | Journalism | Freshman |
| Shua Amaghleba | | | |
| --- | --- | --- | --- |
| Ana Chantladze | Tbilisi State University | English Philology | Freshman |
| Rusudan Jibuti | Tbilisi State University | English Philology | Freshman |
| Chkhari | | | |
| --- | --- | --- | --- |
| Elene Nikibishvili | Tbilisi State University | Medicine | Senior |
| Kristina Chitidze | Tbilisi State University | Law | Junior |
| Nino Panchulidze | Tbilisi State University | Humanitarian Sciences | Junior |
| Mari Arabidze | Caucasus University | Healthcare Management | Freshman |
| Mariam Chitidze | Tbilisi State University | Law | Freshman |
| Nana Turkadze | Free University | Law | Freshman |
| Gordi | | | |
| --- | --- | --- | --- |
| Mariam Chikovani | Akaki Tsereteli State University | Dental | Sophomore |
| Lana Sulaberidze | Kutaisi International University | Management | Sophomore |
| Ana Kintsurashvili | Tbilisi State University | Law | Freshman |
| Atskuri | | | |
| --- | --- | --- | --- |
| Salome Gachechiladze | Samtskhe-Javakheti State University | Law | Freshman |
| Giorgi Martinenko | IliaState University | Business Administration | Freshman |
| Giorgi Martinenko | Georgian Technical University | Energetics | Freshman |
| Merjevi | | | |
| --- | --- | --- | --- |
| Iakob Tchighladze | Tbilisi State University | Law | Senior |
| Mariam Shaorshadze | University of Georgia | Business Administration | Junior |
| Irakli Enukidze | Tbilisi State University | Medicine | Junior |
| Irakli Kemetelidze | Caucasus University | Law | Junior |
| Mariam Enukidze | Caucasus University | Psycology | Freshman |
| Ivane Matcharashvili | Georgian Technical University | Public Relations | Freshman |
| Simoneti | | | |
| --- | --- | --- | --- |
| Ani Gogberashvili | University of Georgia | Psyvhology | Freshman |
| Ketevan Giorgadze | Akaki Tsereteli State University | Law | Freshman |
| Mariam Tsitelashvili | Tbilisi State University | Sociology | Freshman |
| Mariam Karakus | Caucasus University | Journalism | Freshman |
| Tekla Janashia | Akaki Tsereteli State University | Journalism | Freshman |
| Duisi | | | |
| --- | --- | --- | --- |
| Iiman Gumashvili | Tbilisi State University | Exact and Natural Sciences | Senior |
| Madina Kavtarashvili | Ilia State University | Art and Sciences | Senior |
| Madina Alkhanashvili | Tbilisi State University | Arabism | Senior |
| Medo Gaurgashvili | Georgian Technical University | Journalism | Sophomore |
| Mariam Kavtarashvili | Ilia State University | Business Administration | Sophomore |
| Magamed Gaurgashvili | Tbilisi State University | Exact and Natural Sciences | Sophomore |
| Mariami Aldamovi | Georgian Technical University | Pharmacy | Senior |
| Magamd Aldamovi | Georgian Technical University | Informatics | Junior |
| Latali | | | |
| --- | --- | --- | --- |
| Irine Girgvliani | Tbilisi State University | Humanitarian Sciences | Senior |
| Beka Girgvliani | Tbilisi State University | Business Administration | Senior |
| Tamari Girgvliani | Caucasus University | English Philology | Senior |
| Ana Ivechiani | Ilia State University | Tourism | Senior |
| Temuri Tserediani | University of Georgia | Public Administration | Junior |
| Kheledi | | | |
| --- | --- | --- | --- |
| Ana Zumadze | University of Georgia | Humanitarian Sciences | Sophomore |
| Mariam Zumadze | Tbilisi State University | Law | Sophomore |